Covid Information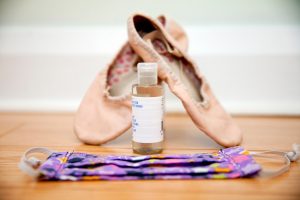 All students attending Star Bound Dance Company are required to have a signed Health and Safety Waiver contracting their families commitment to the health and safety of our dance community.
To maintain the health and safety of our students during Covid, our studios are sanitized in between all classes as well as daily.  All surfaces are wiped down and any equipment used by students is thoroughly cleaned before being used again.  A commercial sanitization company has been hired by the studio and comes in twice a week to fully spray the entire building.  At the moment students are required to wear masks in and out of the building and in all public areas.  Masks may be removed once children are engaged in physical activities.  We are using a two door entry system for our classrooms to keep students separate when entering into the facility and have classes staggered to ensure our capacity numbers stay well below what is recommended.  Students must sanitize their hands both when entering and exiting the building.  Our classroom ratios are maximum 9 students- 1 teacher in a classroom and our teachers are wearing masks through the duration of classes.  We will continue to go above and beyond to ensure the safety of our students and the continuation of in person training at our facility.
We generally host viewing weeks during the season so parents can consistently check in on the progress of their children, however, at the moment these viewing weeks take place in a Zoom format online in order to stay within the regulations of our Provincial Government.  At the moment, parents can only enter the building with a scheduled appointment with our studio office, must be in a mask, and must sanitize their hands upon entering and exiting the building.
The changerooms in our facility are currently closed and students must take all of their belongings into their training classrooms with them.  The washrooms are still available for students to use should they require the facility.  We do not have "holding areas" or "waiting rooms" for our students at the moment under the new regulations and socialization within our facility in between, before, or after classes is strictly discouraged.  When discussing the shut downs of dance studios with the government and looking for answers as to why we are always the first to close and last to open; one of the main contributing factors was the social aspect of in between classes and the heightened possibility of transmission due to it.  Although our students are a team and we love that they are friends, please discourage them from lingering in any areas of the studio or public spaces surrounding Towerlane Mall.  We must all continue to work together and stay within the guidelines in order to keep our classes operational.
During class students will be socially distanced and will be learning in a no contact atmosphere.  We will be working on the fundamentals of their technique, progressing their abilities, creating personal goals, sparking artistry and expression and their general physical, emotional, and mental health.  We are here as a staff and studio to re inspire our eldest dancers and re motivate our youngest.  The experience of Covid on the dance industry has been astronomical and we are here to support our dance families and recover our part of the fine arts community!  Dance is what we live and breath and we are grateful to still be here at the moment and to open our doors for in person training, once again.
We would like to extend our utmost gratitude to our dance families for walking this path through Covid with us.  It has been extremely difficult as a small business in our City but also as dance educators who were stripped of our jobs and our passion for sharing dance with your children!  The road has been long and we are still a long way's away from our general dance training but we are grateful to be back in person with our students; watching their smiles light up our classrooms and seeing them return to something that makes both them and us, so truly happy!  We are strong as a dance studio but as a community we are stronger and we appreciate the support and love we have felt from so many.  #bettertogether
Where are we located? See Map
For information on styles of dance offered and required attire, Click Here