Covid Information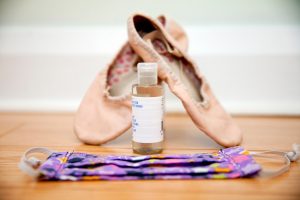 IMPORTANT INFORMATION!
The SBDC Studio will require parents and students entering our facility to be MASKED from September 7th until further notice.
Students will not be required to wear masks in their classrooms while taking class, however, they will need to be masked when entering and exiting the building.
Wherever you stand on masks, at the end of the day; we are simply trying to keep our studio doors open, stay safe, protect everyone the best we can, and avoid harsher restrictions.
We all have opinions and in the fine arts industry, after two years of shut downs, we understand all sides of the spectrum, however; if something small this fall keeps us all moving forward and looking ahead- why not!
We will be requiring all students and parents to sanitize when entering and exiting the building.  We will encourage, as always, hand washing, not sharing water bottles or snacks, distancing when possible, and healthy practices within the studio. We will be maintaining our rigorous cleaning regime as well as maintaining our commercial sprayers for the better part of this season.
We ask that any student showing any visible symptoms of any cold, flu, or sickness remain at home until the symptoms pass.  We ask that any student or family involved in Covid testing or a Covid case stay at home until they are sure of a negative result.  This is not meant to infringe on anyone's rights or discriminate against anyone.  It is our intension to protect ALL of our clientele and students.  Those who are and those who are not vaccinated, those who are and those who are not immune compromised, and those who are and those who are not feeling well.  We want our chance to dance this season!
Our studio is known for teamwork, empathy, community spirit, and coming together.  Let's continue to stay the course and do what we can to keep our community safe and operating!!
Where are we located? See Map
For information on styles of dance offered and required attire, Click Here